K112 Cobbler's Bench
Kiddicraft WOODEN TOYS
Children are sensitive at a certain age to texture, weight and form in their playthings. Carefully chosen colours, contrasting with plain surfaces, also have special. All these features can be combined in wooden toys in a way that cannot always be achieved with plastics or metal. Consequently every child should have wooden toys of good design, amongst other playthings. The range of Kiddicraft Wooden Toys includes playthings to interest children actively moving about, and also for them to enjoy during hours of quiet constructive play. There are push toys and pull toys and toys to put together on the floor. Just as with the Kiddicraft Toys of plastics materials, care is taken to make these wooden toys of some educational value in the course of happy play. Kiddicraft Wooden Toys are made of selected material, beautifully finished in non-toxic colours and clear lacquer. Metal parts have a rust-resistant finish. Each gift box is labelled according to the age at which a child will most appreciate the playthings.
COBBLER'S BENCH
Cobbler's Bench holds more interest than the conventional peg and hammer toy. The seven pegs represent the nails of a shoe, and these can be knocked in with the hammer like the shoe mended does. Hammer is cube-shaped for all-round use. A hardwood toy made super-strong and safe, with frame screwed together to resist months of hammering. The colours and lacquer are completely harmless if sucked.
Age : 1 1/2 - 3 years.
Year : 1968
<<< Back to list
Image Gallery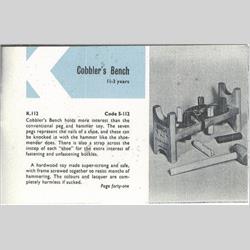 1963 - K112 .jpeg
K112.jpg