K111 Hammer-Peg (Wedge Construction)
This toy is absolutely unbreakable. Hand-Made and constructed throughout from hardwood in natural finish with coloured pegs fixed tightly into holes in the beech frame. These can be hammered from either side with the mallet provided. The child will be delighted with the noise he produces in playing with this toy. Total length 14". No nails, screws or glue used in the construction.
Age: 1 - 2 1/2 years.
Year: 1954
<<< Back to list
Image Gallery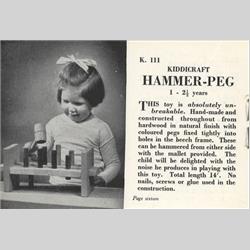 1954 - 16 - K111.jpeg
1955 - 16 - K111.jpeg
1957 - 8 - K111.jpeg